"Out in the Ford pavilion there is a daydream corner called Mustang. This is the car that dreams are made of. So dream your own Mustang. Take your choice of a Six. Or Three V-8's. Power steering. Power brakes. Automatic or Standard transmission. Dozens of options.

Standard equipment: Bucket seats. Wall-to-wall carpeting. All vinyl upholstery. Padded instrument panel. Full wheel covers.

Even though Mustang is a dream, its low price is a beautiful reality. Test one now at your Ford dealer. Pleasant dreams." – TV Commercial for the Ford Mustang's Introduction at the 1964 World's Fair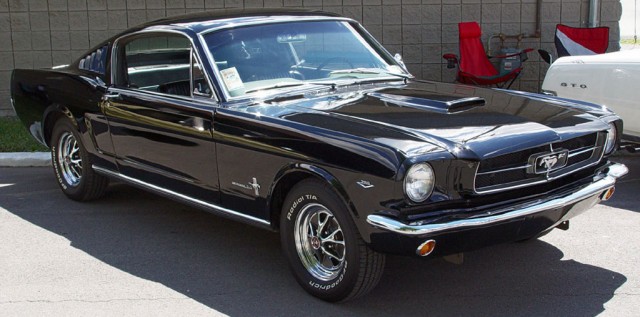 The Ford Mustang came along at the exact right time in history. John Kennedy had been assassinated.  The Vietnam War was heating up. The Beatles began their storming of America on the Ed Sullivan show.
At the same time, there was a changing of the guard. As Buffalo Springfield sang, "There's something happening here." The baby boomers were starting to come of age. They were different from previous generations, and they were looking for ways to express that difference.
That was the environment in 1964 when the Ford Mustang was introduced in the borough of Queens in New York City at the 1964 World's Fair. It was more than an instant hit. It met an untapped need. Ford created a completely new class of automobile: the ponycar.
John Najja, part of the design team and a fan of the P-51 Mustang WWII fighter, is the person credited with naming the new car. Like all potential names, "Mustang" was tested along with several others, and it won by a landslide.
Previous to the Mustang, Ford buyers either purchased staid models like the Galaxy or Fairlane. Chevrolet fans bought conservatively designed cars like the Impala. The Mustang offered a fresh, exciting, sporty alternative that people loved immediately. It was one of the rare new products that people were dying for but just didn't know it yet.
Lee Iacocca is credited with pushing the Mustang into being. His idea was to produce a sporty car with bucket seats that didn't tip the scales over 2,500 pounds and yet was available for purchase for less than $2,500. He wanted to get younger buyers into the Ford family. It was such a departure for Ford it took many meetings to get the powers that be on board.
To create excitement in conjunction with its appearance at the World's Fair, Ford ran spots on all the three major television networks at 930pm on the evening of April 16, 1964, the night before its release. The gamble paid off as over 20,000 Mustangs were sold in the very first day.  Newspapers ran over 2,600 favorable articles lauding the new model.
Evolution
For a car with such a revolutionary look, its inside was more evolutionary. To manufacture the Mustang efficiently Ford used internal parts from other Ford models. The interior, suspension, chassis, and drivetrain came from cousins like the Fairlane and the Falcon. This allowed the Mustang to be developed in a record 18 months. Using familiar parts also cut down the amount of time it took to familiarize workers with the assembly process. It also made stocking and selling spare parts much easier for dealers and repairs much simpler for garages.
Ford projected sales of just fewer than 100,000 for the first 12 months. They blew that away in one-fourth of that time. In the first model year alone, they moved over 300,000 cars. Over the next 18 months, over 1 million Mustangs came off the line. The 1964 model was introduced mid model year. As a result, it became known as the "1964 ½". The 1965 version became Ford's biggest car launch since the Model A.
The company made a few changes to the original model in August 1964, including new back-up lights, alternators, and a larger V8 engine. The 1964 ½ was available as a coupe and a convertible. You could choose from a 3-speed or 4-speed manual transmission, or opt for an automatic. Wall-to-wall carpeting, vinyl seats, and a padded dash were all standard.
The original Mustang had four different sized engines available; from a fairly uninspired 172 Cubic Inch 101 Horsepower 6-Cylinder to a 289 Cubic Inch V8 that came in 3 flavors.
K-Code
In 1965, one of the most popular versions was known as the K-Code, a 289 Cubic Inch, 271 Horsepower Hi-Po 4 Barrel V8. Anyone buying the GT could spring for the K-Code package for another $276. "K" was the letter designation in the fifth position of the Vehicle Identification Number (VIN).
The K-Code had special insignias on the front fenders saying, "High Performance 289." With no air-conditioning or power steering options, the K-Code wasn't for somebody looking for creature comforts. You couldn't even get one with an automatic transmission until 1966.
The K-Code was all about performance. It has better pistons, lifter heads, connecting rods, carburetor, and cylinder heads. It featured little nice details like a chrome air filter and valve covers as well as the insignia "289 High Performance" emblazoned on the air cleaner. In addition, the clutch, rear differential, suspension, and drive shaft were all made for high performance.
The K-Code remains a favorite among Mustang enthusiasts. As a result, their value is high. Up to 1967, just over 13,200 were produced. To this day, you often see the biggest crowds at Mustang Car Shows crowded around a pristine K-Code.
The VIN is the key to knowing which engine is in the Mustang. The fifth letter position in the VIN number tells you the engine:
"T" means 6 Cylinder
"A" is for the "non-Hi-Po" 4 barrel 289
"K" is for the K-Code Hi-Po
Competition
Over the years, the Mustang gained weight every year until a return to its original size in 1974. Since that time there have been different modifications and design concepts. Compared to the Chevrolet Camaro, Plymouth Barracuda, and other ponycars, the Mustang is the only one to be in constant development and production without a break for over 40 years.
Other carmakers came out with their own sporty models to compete with the Mustang's massive success. Chevy produced the Camaro and Pontiac offered the Firebird. In response to these challenges, Carroll Shelby, a renowned racecar driver, and automotive designer, helped Ford develop the 1965 Mustang Shelby GT 350. It had several upgrades, a completely revamped suspension, and improved handling.
Shelby GT
The Shelby Mustang was a fastback model. The 120 horsepower V8 replaced the 266-2V, while the 289 4V was cranked up to 225 horsepower. Finally, the 289-4V Hi-Po remained as it was previously. In 1965, Ford also utilized an alternator instead of a generator. It also had an integral power steering pump and a smaller horn.
The interior of the Shelby Mustang (commonly referred to as the pony interior) is well regarded by collectors. It features embossed running horses on the seat back and wood grain accents on the doors. The GT package also included:
GT Emblem
High style steel wheels
Fog lamps
Front disc brakes
Dual "trumpet" exhausts
Of the 1 million Mustangs created in 1965-66, just 40,000 were a GT version.
In 1967, Ford gave the Mustang its first major engine redesign with a 390 cubic inch engine offered as an option. It kept its same internal construction but the body became bulkier. The trunk and hood areas were thickened and the instrument panel was given bigger gauges and thicker padding.
In 1968, a 302 Cubic Inch V8 was introduced. It was created specifically to meet new emission standards issued by the federal government. That year there were also minor modifications like altered side scoops, gas cap, and steering wheel. In, 1968 Ford also introduced the first shoulder belts for the front passengers.
For 1969 and 1970, the Mustang's body grew larger, with a wider stance and grille. Quad headlamps debuted in 1969 only to be taken away the following year for an ever-expanding grille. Buyers could choose from a variety of cable and pin hood ties, air scoops, and spoilers. Ford debuted Boss 302 and 429 engines in 1969 as well.
Mach 1
The Mach 1 was introduced in 1969. It knocked the GT out of production and became the "performance" model. The term "Mach 1" as first seen on a concept car called "Levacar" that used a cushion of air to move around. The Mach 1 was offered as fastback and never as a convertible.
The larger size chassis let engineers drop much larger engines into the Mach 1.  The design began with a simple "Sports Roof" body. Additional accents developed over time included:
Matte black hood with hood pins
Chrome exhaust
Chrome gas cap and wheels
Dealers could offer optional louvers, and chin and rear deck spoilers.
The Mach 1 was built for pure speed. Its menacing hood scoop signaled that it was all business. Some cars featured the "Shaker hood" which had an air scoop connected directly to the motor for maximum airflow. In 1969, a trade magazine took a Mach 1 out to the Bonneville Salt Flats for some testing. They ended up breaking a number of USAC speed records.
Mid 70's
Real changes came to the Mustang in 1974. Lee Iacocca, now President of Ford, wanted a Mustang that was much more fuel-efficient than its predecessors were. Dubbed the Mustang II, it rolled off the lines right before a worldwide oil crisis. It competed favorably with Japanese imports like the Toyota Celica. In the first year, sales reached over 385,000 units.
However, the Mustang II was heavy for its size due to the technology added to meet federal safety and emission laws. Its performance suffered. Some Mustang fans started to complain, calling it a poor copy of the first generation of muscle cars.
You could buy a coupe or hatchback model. A luxury model named Ghia was offered as well as an economy model called the MPG Stallion. Buyers could select a new "Cobra II" model in 1976 and 1997.  In 1978, a "King Cobra" model was offered.
1979 Onward
From 1979 through the mid-90's, Mustangs were built on the Fox platform, which was originally created for the 1978 Mercury Zephyr and Ford Fairmount. Buyers could choose from a coupe, notchback, hatchback or convertible.
During this time, Mustang sales started to fall considerably while fuel prices skyrocketed at the same time. Ford began to develop a new generation of Mustangs. At first, they sought to create a version based on the same rotary engine found in the Mazda MX-6. Mustang fans objected vehemently to the idea, and Ford backed off that plan.
1994 Changes
For the first time in fifteen years, the Mustang received a significant redesign in 1994. It was based on a version of the Fox platform rear-wheel drive version named Fox-4. The baseline model had a 3.8 Liter Overhead V6 232 Cubic Inch engine with 145 Horsepower. It came with a 4-speed automatic or a 5-speed manual. A new 4.6 Liter 281 Cubic Inch Single Overhead Cam V8 was offered in the 1996 Mustang GT. It generated 215 Horsepower which was later boosted 225 Horsepower in 1998.
Ford debuted "New Edge" styling in 1999. It featured intersecting arcs and lines designed to, according to New York Times writer Michelle Krebs, "create surface tension by adding creases to soft aerodynamic shapes." The body had larger wheel wells, creases in the doors, and sharp contours. The standard engine featured a new split-port induction and was capable of producing 190 Horsepower. The Mustang GT increased Horsepower to 260. Buyers could select three different models at different times in this period: the Bullitt, Mach 1 and the Cobra.
Into the Present
By 2005, Ford had decided on a new redesign. It was introduced for the 2005 model year at the North American International Auto Show. It brought back memories of the original Mustangs from the 1960s. The base model from 2005 through 2009 had a 210 Horsepower cast-iron 4.0 Liter Single Overhead Cam V6. The GT model came with an aluminum block 4.6 Single Overhead Cam 3-valve V8 with variable camshaft timing. The GT pushed out 300 Horsepower. Transmissions offered included a Tremec T-5 5-speed manual, and Ford's 5R55S 5-Speed automatic.
Ford redesigned the exterior for the 2010 model year. The base engine remained the same, but the GT's 4.6 Liter V8 was renovated to generate 315 Horsepower. New spring rates and dampers, wheel sizes, and traction and stability control systems were also introduced.
In 2011, power steering took the place of the hydraulic steering system. Transmissions offered included a Getrag-Ford MT82 6-speed manual and a 6-speed automatic. All of the engine plants were changed. A brand new 3.7 Liter 227 Cubic Inch aluminum block V6 cut 40 pounds from its predecessor. It had 24 valves and Twin Independent Variable Cam Timing that helped crank out 305 Horsepower.
The GT version had a massive 5.0 Liter, 32 Valve engine producing 412 Horsepower. Buyers could choose options like Brembo brakes, 19-inch wheels, and high-performance tires.
Full Circle
One of the most iconic cars in automotive history now comes full circle. In October 2011, Ford made it possible to build a 1964 ½, 1965 or 1966 Mustang convertible using Ford-approved and licensed body shells.
"The 1964-66 Mustang is the most restored vintage vehicle. But the number of 1964-66 vintage bodies is shrinking every year," said Dennis Mondrach, Ford Restoration Parts licensing manager. "Most of the original Mustangs left in scrapyards are rusted or wrecked beyond repair. The new body shell is made of virgin metal and uses modern welding techniques. It comes rustproofed, and after final adjustment and finish preparation of the body panels, it is ready for painting and final assembly."
To use the new shell, the powertrain, suspension, and brakes, electrical system, interior and trim can be transferred from an existing car or bought brand new. If the parts of an original Mustang won't work, Ford-approved restoration parts can be purchased. Ford-approved classic part suppliers have all the parts, blueprints, specs and technical drawings they need to help customers.
The shell itself is made of higher-grade steel than the originals from the 1960s. It is made with a modern automotive-grade steel with more welds making it exceptionally strong. It can be shipped to any address. It includes the doors, trunk and all the sheet metal from the radiator support to the taillight panel except the hood and front fenders. They can be purchased separately. As of this writing, the body shell is available starting at $15,000.
$5.5 Million
So how much are the vintage 1964 ½-1965 Mustangs worth today? Would you pay $5.5 million for the first 1965 ½ Mustang offered for retail sale? That's the price tag the owner of Mustang #212 was asking for their car in 2008. On their website, they stated, "We guarantee, as per our research, that Mustang 100212 is the first Mustang to be issued a VIN number for retail sale on March 9, 1964, the first day of Mustang production at the Dearborn Assembly Line."
While that price tag was probably more for publicity as much as commerce, it sets a tone. Consider the case of Bruce Beeghly, a car collector in Girard, Ohio. He bought a pre-production Mustang in 2009 for $40,000.  Experts later determined it might very well be the earliest known Mustang ever produced and worth about $1 million. That is some profit.
Love Story
What is it about Mustangs that garner those lofty prices? It's hard to explain why cars like the Ford Mustang are loved so much. The Mustang is the kind of car people love at first sight and remain that way, all their lives.
Checking in the automotive forums provides some insight:
"The classic look gives me a warm feeling," said papasam1 in the same forum. "I would feel like I owned a piece of history because the '65 is so early. Fix it up, and make the engine purr. Classic Mustangs are the way to go for me."
"I've kept my 66 GT for over 40 years," said rob113 in the Edmunds.com forums. "You can't duplicate the rumble of twin Flowmasters behind the 289 4V engine…you had no computers, no fuel injection, big blocks, and all power."
For many people, the Mustang marks a time in their life when they were just starting to drive, young and carefree. The Mustang represents for them youth, vitality, fun, power, adventure, and style. The Ford Mustang is a dream car that has kept fans enthralled for over 40 years.