Parts
Essex Mustang Centre Parts & Spares
Welcome to Essex Mustang Centre's Parts and Spares store. We stock a huge selection of parts and spares for many vehicles, with a focus on the classic Ford Mustang from 1965-1973. We offer direct shipping to customers in the United States from a domestic warehouse in California, along with full shipping from within in the United Kingdom from our warehouse in Essex, UK. Many of the parts are in stock and ready to ship with a small delay if they are not. Please feel free to browse our catalog of parts and accessories.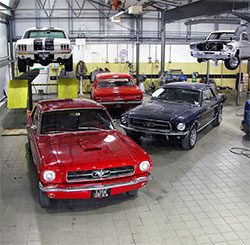 The owners of Essex Mustang Centre have been in the automotive restoration industry for over 30 years and know how hard it was back then to find parts for a particular car or project. We first started importing car spares and parts back in the mid 90's when the Internet was in its infancy and parts were found by calling over seas or sending faxes - times have moved on and so have we.
We now ship from the USA every week for smaller items, once every two weeks for slightly larger items and our main shipment once every 4-6 weeks (for body panels, glass and bulky items). Although if a large item is not in stock we can UPS it in at a small additional cost. We also have a great technical back up, so if you are looking for a part and need to know how it fits or how hard it is to change or any technical advice on parts, just ask.
As new parts become available we aim to offer them for sale before any one else so just because that part you are looking for is not on our site does not mean we can't get it for you - just ask.
We use all the parts we sell so know how they fit and how work, we are not just a reseller of parts with no application knowledge, so if you if you buy a part from us we can tell you how it fits and what (if any) problems you may come across in fitting. We also offer a re-triming service on all the interior trim we sell, so no more looking for a trimmer once you have bought your new trim. We can pick up your old set of trim, replace with new and send it back, all you have to do is bolt it in.
We believe our back up to be second to none; after all its not just about price (although we strive to be the most competitive in the market place) it's about support after with help and advice.
Mustangs started as a hobby for us and now it's our business and our aim is to help others with there Mustang hobby or restoration project. Thank you for your custom.
Welcome Guest! Would you like to log yourself in? Or would you prefer to create an account?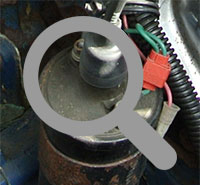 NEW: "Find-a-part" Part Identification Service
We now offer a completely free part finding and identification service. Restoring a car and have no idea what the part could be? Contact us and let our experienced staff identify the part for you. Click here for more information here.
This Week's Featured Products

Categories
Below are our main categories. We have further subcategories inside each of these.